Building a Capsule Wardrobe on a Budget
How many things in your wardrobe do you never wear? In fact, how many things have you never worn?! I too have been guilty of buying things and months – if not years – later I find them in my cupboard with their labels still on…if I added it all up, I am sure I would have had that holiday to Thailand by now, funded purely on unworn, hardly worn, what-was-I-thinking type purchases.
A capsule wardrobe changes that. It is a way of thinking of your wardrobe as a whole – and not each individual item on its own. When you have a capsule wardrobe you will be able to mix and match almost every item, creating loads of fab looks that all fit and flatter and are easy to put together. Even for the laziest people…like me 🙂
It really helps to have a 'signature style' or a 'uniform' when putting together a capsule wardrobe. Essentially it is about thinking about your own 'look' for the season – and then creating your capsule wardrobe around that 'look'. So you would have your 'summer season look' or 'your look for winter' or even your 'look for work'.
A nice full capsule wardrobe would consist of 20-30 items that would then create hundreds of looks. However a basic work wardrobe can consist of just 13/14 items, not including shoes or accessories.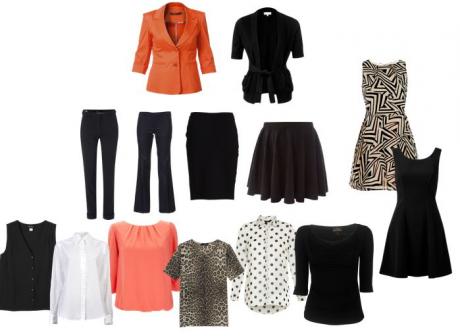 The basic formula for a professional capsule wardrobe is:
2 x jackets or cardigans (top layers)

4 x bottoms (skirts/trousers)

6 x tops

1 or 2 dresses

Each jacket must work with all the tops and bottoms

Each top must work with all the bottoms
These 13/14 items will easily make 70-80 outfits…add one more jacket and you can make 90+ outfits. Added accessories and shoes then let you make those outfits have very different looks and feels.
Here I have put together about 60, and I haven't used all the items…
To get maximum wear out of your capsule wardrobe:
1. Choose your neutral / base colour – navy, black, charcoal, brown, burgundy, grey etc. We don't tend to notice neutrals the way we notice colours so you can wear them again and again without people remembering.
2. Choose your accent colour – these should be in your own colouring and in the same family (i.e. warm colours, cool colours, bold colours)… this way they will all harmonise really well together as well as look just right for you.
3. Careful with patterns – for maximum options it is much easier to go patterned on the tops, or the dresses, so that they will be able to go with all the bottoms and jackets you have chosen. If you have patterned bottoms they will only go with plain tops so it limits your options.
4. Options – vary the items as much as possible so you have versatility in your capsule wardrobe. ¾ length sleeves, long sleeves, pencil skirts, cropped trousers, cardigans and jackets allow you to easily go from smarter to more casual.
5. Don't double up – don't get the same top in every colour, rather make sure all of your tops are completely different. It's obvious, but this way you won't feel like you are wearing the same stuff all the time and will be able to create genuinely different looks.
6. Accessories – have a range of accessories that will help you create even more variation in looks. Shoes completely change a look; scarves, necklaces, pashminas, big statement bags and so on will bring extra colour and personality to every outfit.
7. The rule of 3 – before buying a new item to add to your capsule, think of 3 things you could wear it with or 3 different ways you could wear it. That way, any new additions will add maximum value to your wardrobe.
Here are a couple of looks I have recently in more detail!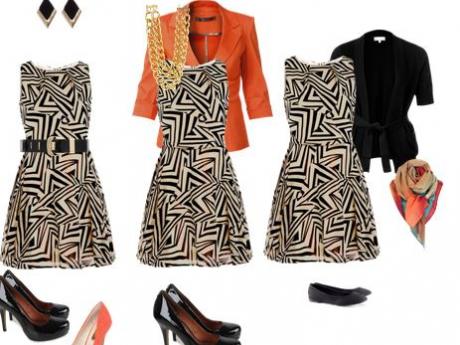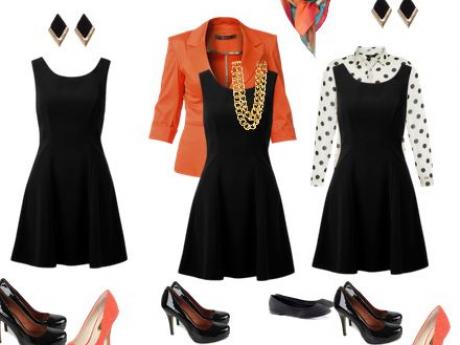 Read more of my blogs here 🙂