ANY OF THIS SOUND FAMILIAR?
Email, social media and digital marketing: FANTASTIC tools with the horrible side-effect of making people – and I'm not just talking about millennials – HIDE behind their screens.
Which wouldn't be a problem. Except that personal interaction – with colleagues, clients, suppliers and the public – was still a MASSIVE part of business the last time I checked!
No matter the size of your company or the sector you operate in, personal impact skills are not a nice-to-have but a must-have for your employees – and this obviously goes double for managers or people you have identified as having potential.
However, despite offering awesome products or services, I find that many companies face at least 3 or more of the following challenges. Do any of these sound familiar?
The people you want to promote (or have promoted) possess great skills: but not the confidence or charisma needed to manage effectively…
Employees deliver uninspiring presentations and conduct ineffectual meetings (death by PowerPoint anyone?)
Staff fail to present a consistent, confident and polished image…and so are not taken seriously by colleagues or clients
Employees possess technical skills but lack approachability (yup, that's a polite way of saying 'people skills')
Team members sidestep communicating in person because they "just don't have time" and are "too busy"
An avoidance of difficult conversations leads to poor conflict management
People lack executive presence and authority: "Can I speak to the manager?"…"Um…I am the manager".
Staff misinterpret dress codes, especially the more casual the code is…
Employees fail to speak up or participate
People shy away from networking (i.e. standing in the corner…talking to the colleague they came with)
WHAT YOU NEED…
I've combined the most powerful bits, the cleverest bits and the get-amazing-results-and-have-people-talking-all-about-it bits from 15 years of teaching personal impact skills. The result is the FACE FORWARD training programme which gives your employees:
– an understanding of personal image and how it can be used to project credibility and inspire trust in others
– the ability to communicate with impact, to exert influence and be assertive when required
– the self-confidence to take responsibility, use their initiative and participate
– the executive presence to manage or lead others effectively and make an impact on everyone around them
The FACE FORWARD programme lights a fire under people's butts, inspiring them and motivating them. The more empowered people feel the more they WANT to make changes. The more confident they are, the more they are ABLE to. It's frequently used by companies looking to:
build the confidence of younger managers / get them looking and acting the part
promote more women from within (especially to senior positions)
develop more engaged, assertive and dynamic sales teams…
…and the benefits are tangible (aka 4 reasons why you'll want to run this program before your competitors do!)
– My clients typically experience a growth in sales of 4 to 10% after I work with them: in dealings with clients, suppliers or the public, your company is better represented. Confident, assertive & likeable employees make a far greater impact, ensuring more repeat business and a better bottom line.
– My work has frequently lead to a significant improvement of 18-40% in employee engagement scores: my programme significantly improves team performance. Better communicators get more out of each other on a day-to-day basis, reduce friction in the workplace and inspire loyalty and increased performance from their peers.
– After FACE FORWARD training, mystery visits have often recorded 100% satisfaction scores: Face Forward leads to better individual performance and productivity. Staff who have been empowered are more engaged, take pride in their performance, come to work motivated and enjoy themselves more. They take responsibility, act with initiative, contribute more and have greater pride in the company.
– Following the programme clients have typically been able to promote up to 70% of attendees in a group within 6 months: my training helps you to promote from within. With increased confidence, communication skills and presence, you are more likely to be able to recruit or promote from within the business. Reduced recruitment costs represent a significant saving.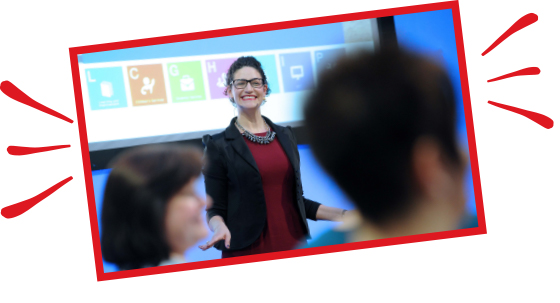 FACE FORWARD PROGRAMME: OVERVIEW
I don't do talk 'n chalk. I don't even always use PowerPoint.
My style is energetic, humorous and packed with exercises and activities. I look to challenge, support and teach people so that they can make real and long-term changes.
In fact, as much as the content, it's my unique way of delivering training that ensures results. That's why I will never send someone else to deliver this course. You get me.
– Real and long-term changes don't always happen in a day (sorry about that!) The optimum way to deliver this programme is over 5 non-consecutive days during an approx. 6 month period (one day per month, with 2 EXTRA one-to-one coaching sessions for each delegate during the course of the programme). This provides vital time for reflection, practice and development which feeds back into future days in the programme.
Day 1. Initiative, Motivation and Goal-setting
Day 2. Confidence, Executive Presence and Image
Day 3. Communicating, Influence & Assertiveness
Day 4. Presenting, Networking & Group Dynamics
Day 5. The FACE FORWARD secret sauce
– If the full 5-day programme isn't practical, a scaled back version can be delivered over 3 non-consecutive days.
– If you really just want to light people up and get them thinking differently, there's a jam-packed 1-day workshop that gives just enough to see a visible change in people instantly.
Unlike most courses, this is a training programme that results in a visible change to the positivity and productivity of your staff. It gets people off autopilot and gets them showing up as the best version of themselves. It's not old-fashioned, demotivating or just flat out patronising (so people don't call in sick to avoid it!) And it leaves a lasting impact on employees AND your bottom line.